Sherman H. Peirce, Optometrist
Raised a stone's throw from Draper, Doctor Peirce (yes, it is spelled Peirce not Pierce) has been examining eyes at South Hills Eye Care since 2008.  He graduated with distinction from Pacific University in 2005 as a Doctor of Optometry.
His undergraduate work was completed at the University of Utah.  Dr. Peirce earned a Bachelor of Arts in communications.  Dr. Peirce is fully licensed in Utah including therapeutic prescribing privileges.  He is an active member of the Utah Optometric Association and the American Optometric Association and proud to be an optometrist.
As a communications graduate, Dr. Peirce takes pride in spending time educating and learning from patients.  Besides optometry, Dr. Peirce enjoys sports of all kinds (either as a spectator or player) and backpacking in the Uinta mountain range.  Dr. Peirce donates a considerable amount of time to service in his community.  He most appreciates, however, the time contentedly spent at home with his four children and wife, Jocelyn.
Kayla Taintor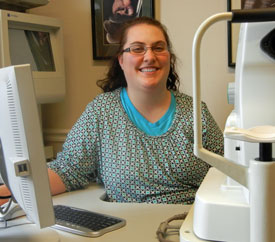 Kayla is our optical expert.  She is going on three years as an optician.  She had worked with Dr. Peirce elsewhere and jumped at the opportunity to join his practice in 2013.  She is a licensed optician with the American Board of Opticianry.
Kayla loves everything optical.  She can answer questions about insurance coverage, help you select the perfect frame, or assist with contact lenses.  She is experienced, from a patient perspective, as she has been wearing glasses and contact for many years.
Kayla and her husband, Ben, are proud parents of two children: Aidan and Rylee.  She loves spending time outdoors, whether she is playing with her children, camping, or target shooting.  She spends her spare time engaging in chupacabra, snipe, jackalope, and yeti hunting.
Brittney Lewis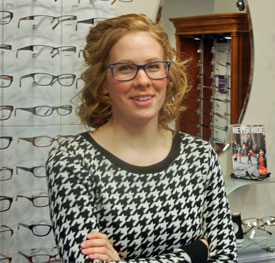 Brittney joined the office March 2013.  Having worn glasses since she was twelve, she knows what it is like to be an optical patient and has been to many doctors in different states.  She is very happy to be a part of this great office!
Brittney has an extensive history in retail, even managing teams and stores.  She loves the thrill of working with patients to find new glasses that are fun and exciting for them, yet comfortable and functional.  Brittney has also worn contact for sports since she was fourteen.  As an allergy sufferer, she has tried just about every contact lens on the market and can relate, on many levels, to contact lens wearers.
Brittney was raised in a small town in Nevada and spent most of her time camping, fishing, hunting, and playing basketball, soccer, and track for her school teams.  She loves watching movies, reading, going to concerts, decorating her home, gardening (trying desperately and miserably failing) and spending time with husband and 3-year-old daughter.
Brittney is currently studying to receive her American board of Opticianry certification and plans on being in optical for many years to come!